ChildbirthJoy Prenatal Hypnosis
...for a safe, easier and more comfortable birth...naturally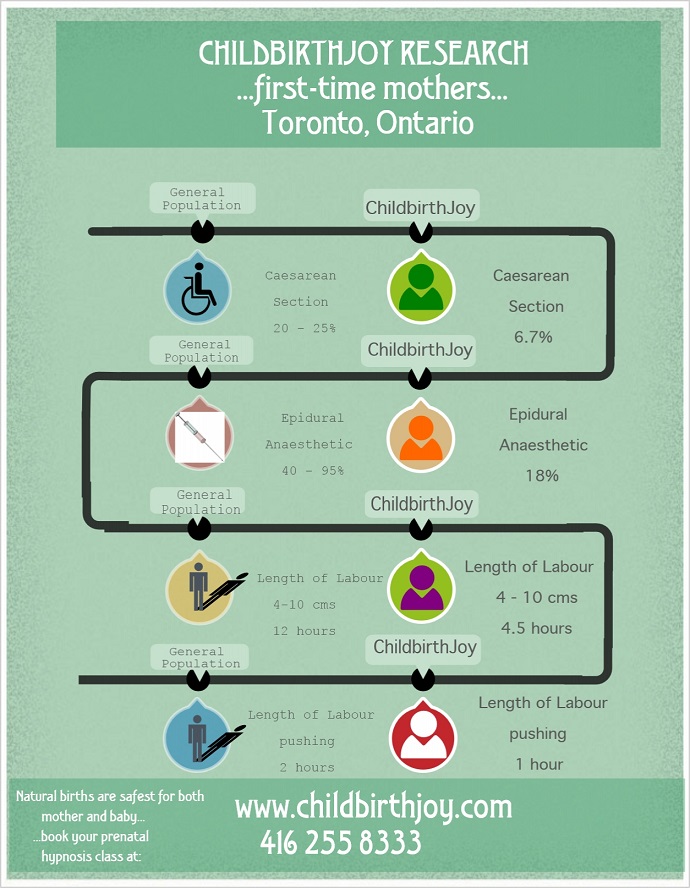 Length of Labour
On average, the length of labour for a first baby is 38 hours.
At 15.5 hours, women who take the ChildbirthJoy Prenatal Hypnosis series
have a reduction of about 60% in the length of labour.
Caesarean Section
For caesarean section (major abdominal surgery),
women who do the ChildbirthJoy Prenatal Hypnosis series
have a reduction of about 65-73%...(from approx 25% to 6.7%).


Epidural Anaesthesia
And the rate of epidurals in most Toronto hospitals is 90 to 95%...
women who do the ChildbirthJoy Prenatal Hypnosis series
have about a reduction of 72-76%...


A natural birth is the safest for both you and your baby.
Details
The cost of the series per couple is $330 plus hst = $372.90.
This includes:
the full series (one evening and one weekend)
all recordings
all print material.
See below for dates and times of upcoming classes.
Most classes are held in central Toronto (Eglinton and Avenue).



---


A client's feedback...
Fourteen years on, I'm happy to see you thriving in your practice/teachings. This thank you note comes unusually late but no less meaningful.
I was looking up your information for a friend and realized I never shared the joyful story of the birth of my 2 children. My partner Michel and I took a group hypnosis for childbirth class with you in 2000. We had planned for a home birth but after many hours of labour that didn't progress, my midwives transferred me to the hospital that they have admitting privileges at.
Our son was "stuck" and thanks to the obstetrician (an old school doc), we avoided a C section and even the epidural that was on order. Although this was an intense experience, I was in a deep trance like state which allowed me to handle everything without any panic or even much fear. Our son just turned 14 and it is a privilege to have him in our lives.
In 2003 we attended a refresher class as we prepared for child number two (I was age 40). When I went into labour with my second child in 2003, I sent my partner off to work thinking it would be some time before anything happened. I got into bed with headphones listening to the soothing sound of your recorded voice.
Around 1 pm, I notified my midwives that "something" was happening and because I sounded so calm, they said they'd stop by on their way to see another client. Well, much to their surprise (and mine) I was 9 cm dilated and our wonderful daughter was born at home soon after. Our son was at the birth and I must say, these two have a beautiful bond and supportive relationship.
Your teachings and support greatly contributed to our positive birth experiences.
I will always be grateful.
Linda M, Toronto
September 2014
---
The link below is a blogpost dated April 2016 from my client who gave permission for this to be shared.
From my reading of the birth, I suspect that the baby's position may not have been optimal (i.e. she wanted to be in a forward leaning position and had vomiting). A less than optimal position adds to the pain as well as the length of the birth. I think we can all agree that she was amazing.
Shawn
Client's blogpost about her birth 
---

Dates and Times for
ChildbirthJoy Hypnosis

If you are wondering when is the best time to take the series...in general, sooner is better.
While I have had clients take the series in late pregnancy with good results, really great results usually occur with practice.
If you know already that you are talented with hypnosis, the timing of your series is less important.
But if you have challenges with relaxing and quieting your mind, get started sooner.
This series teaches you self-hypnosis and having some time (even a couple of months) for your practice will help you (and your partner) get really great at this.
The human brain works best with repetition - I'm told that research shows that for most of us, it takes a minimum of 21 to 30 days to change the brain (i.e. create new habits, etc).
Once you register, you will receive your copy of my ebook Hypnotize Yourself! with embedded recordings to get you started with learning self-hypnosis.
Please contact me at 416 255 8333 if you have specific questions.
Shawn


---

Central Toronto
Space for One Couple
Friday June 23, 6.30 to 9.30 pm
Saturday June 24, 9.30 am to 6 pm
Sunday June 25, 10 am to 6 pm
Location: Avenue Road, north of Bloor (see below)
contact: 416 255 8333 to inquire about space 
or complete this form:
---

Bloor and Jane
Accepting Bookings
Friday July 7, 6.30-9.30 pm
Saturday July 8, 9.30 am to 6 pm
OR
Friday September 8, 6.30-9.30 pm
Saturday September 9, 9.30 am to 6 pm
Location: West End Mamas
NOTE: This is a basic prenatal class.
No hypnosis is taught in this series.
To inquire about this series, contact Shawn:
416 255 8333
or shawn (at) childbirthjoy (dot) com
---

South-West Toronto
Accepting Bookings
Friday July 14, 6.30 to 9.30 pm
Saturday July 15, 9.30 am to 6 pm
Sunday July 16, 10 am to 6 pm
Location: west Toronto home office (see below)
---

South-West Toronto
Accepting Bookings
Please note: as this is a long weekend,




this series may be cancelled due to low enrollment




Friday August 4, 6.30 to 9.30 pm
Saturday August 5, 9.30 am to 6 pm
Sunday August 6, 10 am to 6 pm
Location: west Toronto home office (see below)
---

Other Information...


---
Please Note: it is best to complete the series earlier in pregnancy if you can as this allows you time to practice your self-hypnosis.
Some things to consider:
Prenatal visits with your health care provider are typically monthly from conception to 28 weeks,
every two weeks to 36 weeks
and every week thereafter to the birth.
SO...this means that the closer you get to your due date, the busier your life gets, which can add to stress if you are also fitting a prenatal series in...
AND...your belly is getting bigger, which can make it more of a challenge to sit through two+ days of classes...
PLUS..."term" is defined as 37 completed weeks, which is 21 days before your due date - once you are term, the baby can be born any time and it is not considered too early.
I've had some clients be surprised by the birth happening earlier than they thought, meaning that they had not had a chance to complete the series...so plan early.
The way that this series is taught, you cannot forget what you've learned - not only will you remember it all, all the practice that you allow yourself (using your recordings, your self-hypnosis and even practice with your partner) will be constantly reinforced and be even more effective!


---


Central Toronto Location
Space rented at:
Metaphysique, 98 Avenue Road
If you have questions, please contact me at 416 255 8333

Central Toronto location
This is an image of the room that we use for the weekend:
---



Home Office (south west Toronto) Location
---



Eglinton/Avenue Location
The Russell Hill Chiropractic Clinic is available for teaching space
if you can bring a minimum of 4 couples.
A lead time of 1-2 months is needed.
---


Frequently asked questions about ChildbirthJoy Prenatal Hypnosis...



Home





---