In The News
---
Lose the Lamaze; ease the pain with hypnosis
by TRALEE PEARCE
Globe and Mail, Toronto
June 24, 2008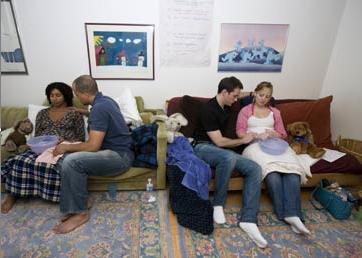 From the outside, it would appear the birth of Ashley Desson-Demetriadis's first child was a chaotic experience.
The Oakville, Ont., resident's plans for a home birth with a midwife were derailed when the baby's heart rate dropped and she was rushed to hospital.
But because Ms. Desson-Demetriadis, 25, was versed in a form of self-hypnosis geared to birthing moms, she says she was able to close her eyes and keep the complications at bay. A very healthy baby Noah arrived quickly, with the help of vacuum assistance. "If you ask me, I say it was great. Fantastic," the interior designer says of the February birth. "As everything turned south, I don't feel like I experienced it. I feel like I witnessed it."
Forget Lamaze and its offspring. The latest in childbirth support is all about benign mind control. It's called hypnobirthing - and it has nothing to do with men in tuxedos waving pocket watches.
In the past 10 years, as hypnotherapy has grown in popularity for treatments such as smoking cessation, the practice has started inching into the mainstream. As Ms. Desson-Demetriadis's Hamilton-based instructor, Lara Stewart-Panko puts it, she's hearing a lot less "hypno what?"
Ms. Stewart-Panko teaches a trademarked technique called HypnoBirthing, created by a New Hampshire hypnotist, Marie Mongan, whose first client was her own pregnant daughter.
Others teach variations on the technique, such as Toronto hypnotist Shawn Gallagher, an associate with the Ontario Hypnosis Centre, who calls her course Hypnosis for Childbirth. The centre also trains hypnotherapists in the specialty - about 20 certified practitioners a year since 2002.
The underlying philosophy of hypnobirthing suggests that the more tense and afraid the mother is, the more pain she will feel; so controlling stress and fear are the starting point to a more comfortable experience.
Practitioners teach moms-to-be how to close their eyes, breathe deeply and sink into a deep meditative state, often with the help of their partners, who can offer a physical cue such as a hand on the shoulder to initiate the hypnosis. Visualization methods are also used, as are tips on how to manage pain, especially during contractions, which the hypnobirthing community calls "waves" or "surges."
Last weekend, Ms. Gallagher had students hold their hands in buckets of ice water to learn how to numb pain using positive affirmations. Another goal is to shorten the time spent in active labour. Many of the mothers she has trained in the past 10 years happily report short labours - about 4 1/2 hours seems to be the norm, Ms. Gallagher says.
Still, while Ms. Gallagher is encouraged by the interest in her practice and in hypnosis in general, she is careful to explain that self-hypnosis may not be for everyone.
"Some people are naturally talented at it, but there are a range of responses," she says, adding that couples looking for courses should be wary of anyone who promises a completely pain-free experience.
Ms. Desson-Demetriadis was intrigued when a friend told her about using the technique. She was looking for an alternative to the gruesome, painful birth stories she was hearing from friends and family.
While the practice is a form of natural childbirth aimed at steering expectant moms away from rising numbers of induced births, epidurals and cesarean sections, hypnotherapists are not all vehemently opposed to these practices.
It's not an either-or choice, says Janice Daigle, a doula and hypnobirthing practitioner in Richibucto, N.B.Ms. Daigle uses the analogy of a baseball team: A woman about to give birth needs everyone on her bench, she says. Her starting player may be hypnobirthing, but she's also got to have doctors, nurses, the epidural and the cesarean section on her team. Hypnobirthing can help her deal with the worst of it.
Practitioners say they are starting to receive referrals from obstetricians and nurses. And some doctors and nurses are enrolling themselves.
Ms. Daigle currently has five doctors enrolled in her course. One Montreal medical resident, Marie (who asked that her name not be used because she wasn't offering her professional opinion), says she's taking a hypnobirthing class to balance her medical knowledge.
"I'm a rational person. It's really simple," says Marie, 27. " It gives me more tools. I don't want to be passive." Even women who know their pregnancies are high-risk are turning to the practice.
Oakville mother Nancy Ortenburg, 38, choose hypnobirthing for her second birth after her first baby was stillborn in a very difficult labour.
"I was hysterical with pain," she says. "I thought, 'There has to be a better way.' "
When her second daughter started to arrive prematurely in January, Ms. Ortenburg and her husband rushed to hospital in Oakville, but there was no neonatal intensive care unit there. If Ms. Ortenburg could hold on until the next morning, there would be room for her baby at the Hospital for Sick Children in Toronto.
She credits hypnobirthing with slowing her contractions. "It got me through 28 hours," she says. When mom and baby were ready, it took only five pushes for baby Charlotte to appear. While she did need a pain reliever near the end, Ms. Ortenburg feels that hypnobirthing helped her and her husband "make the best we could have out of the situation at hand."
---
Hypnosis: Is it trickery or is it treatment?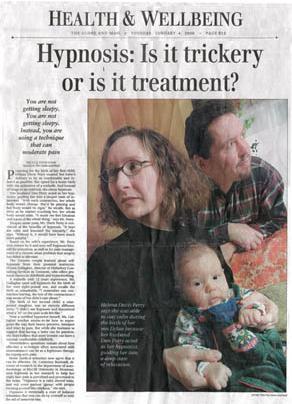 You are not getting sleepy.
You are not getting sleepy.
Instead, you are using a technique that can moderate pain



NICOLE JOHNSTON
Special to The Globe and Mail
January 4, 2000


Preparing for the birth of her first child, Helena Davis Perry wanted her baby's delivery to be as comfortable and relaxed as possible. She opted for a home birth with the assistance of a midwife. And instead of drugs or an epidural, she chose hypnosis.
Her husband Dan Perry acted as her hypnotist, guiding her into a deeper state of relaxation. "With each contraction, her whole body would change. She'd be panting and her body would be rigid," he recalls. But as soon as he started coaching her, her whole body would relax. "It made me feel fabulous and a part of the whole thing," says Mr. Perry.
Despite some pain, Ms. Davis Perry is convinced of the benefits of hypnosis. "It kept me calm and lessened the intensity," she says. "Without it, it would have been much more painful."
Based on his wife's experience, Mr. Perry now swears by it and uses self-hypnosis himself for relaxation, as well as for pain management of a chronic sinus problem that surgery has failed to alleviate.
The Toronto couple learned about self-hypnosis from their prenatal instructor, Shawn Gallagher, director of Midwifery Consulting Services in Toronto, who offers prenatal classes in childbirth and HypnoBirthing.
A midwife with 12 years experience [please note that this article was published in 2000 and I am currently not a practicing midwife], Ms. Gallagher used self-hypnosis for the birth of her own eight-pound son, and recalls the birth as remarkable. "I remember one contraction hurting, the rest of the contractions I was aware of but didn't care about."
The birth of her second child, a nine-pound daughter, was an entirely different story. "I didn't use hypnosis and discovered what a '10' on the pain scale felt like."
Now a certified hypnotist herself, Ms. Gallagher teaches moms-to-be how to reprogram the way their brains perceive, interpret and react to pain. But while she hesitates to suggest that having a baby can be painless, she does believe that most women can have a normal, comfortable childbirth.
Nevertheless, questions remain about how effective a technique often associated with entertainment can be as a legitimate therapy for coping with pain.
Some medical scientists now agree that it can be effective. Dr. Catherine Bushnell, director of research in the department of anesthesiology at McGill University in Montreal, uses hypnosis in her research to help her study how pain is perceived and processed in the brain. "Hypnosis is a valid altered state, and not some parlour [game] with people running around like chickens," she says.
Hypnosis is essentially a state of induced relaxation that you can do by yourself or with the aid of someone else.
Hypnosis has undergone a metamorphosis since its acceptance as a legitimate therapy by the American Medical Association back in 1958. Once used exclusively by medical practitioners bent on probing the subconscious mind out of scientific curiosity, hypnosis has since evolved into a healing therapy.
And it is gaining wider acceptance in the mainstream -- coinciding with the ever-growing popularity of alternative medicine.
In recent years, countless people have used it in an attempt to conquer smoking and overeating. But it doesn't end there. Certified hypnotist Georgina Cannon, director of the Ontario Hypnosis Centre in Toronto, says hypnosis clients range from students trying to improve their study habits, to Bay Street executives trying to overcome shyness or public-speaking anxiety, to chronic-pain sufferers looking for respite.
Although hypnosis was once a therapy sought mostly by women, men now make up half of Ms. Cannon's clientele -- though not necessarily for the same reasons. While both sexes turn to hypnosis for personal motivation, fighting insomnia, or trying to get to the root of their depression, men complain chiefly of anxiety and stress. Women, it seems, are combating issues of guilt and self-esteem.
The lasting effects of hypnosis can vary for individuals, however. Ms. Cannon cautions those who come to her for smoking cessation that some may be tempted to try one cigarette down the road, thinking they're in control of their habit. While most of her clients are successful at kicking the habit through hypnosis, those who feel tempted may benefit from an occasional "booster" session to keep them focused on their goal.
The continuing doubts about hypnosis, its enthusiasts say, stem largely from the erroneous ideas about it seen in Hollywood movies and popular culture.
Myth #1: At the count of 10, you will be in deep, deep sleep. The participant is awake the entire time, says Ms. Cannon. Hypnosis, simply put, is a state of focused relaxation. The hypnotist - or facilitator - guides the person to a level of relaxation that enables him or her to go into a light trance similar to what we experience while daydreaming or watching television. Soothing music, dimmed lights and a calming voice help guide the person into an increasingly deeper level of relaxation.
Once total relaxation is achieved, the conscious mind takes a back seat to the subconscious, where the real work begins. The subject is guided mentally to a "safe place" and suggestions for behavioural change are then made.
Myth #2: You will do exactly as I tell you. Nobody can make you do something you find morally objectionable, emphasizes Ms. Cannon. And if you don't want to be hypnotized - you won't be.
Individuals also differ in their level of suggestibility. Ms. Gallagher recalls her hypnosis-assisted birth as being relatively painless. Helena described her pain experience as a six on a scale of one to 10 - but says it was a "tolerable" level of pain.
Depending on the goal, different individualized "scripts" are used for bringing about change - techniques specific to a particular problem. One commonly used is visualizing oneself after the change has been made.
"Athletes do this all the time," says Ms. Cannon. Whether it's the basketball player mentally calculating his next shot, or the downhill skier visualizing her next run down the mountain, "They visualize success." And this, she adds, is key to the success of hypnosis.
Myth #3: At the count of 10, you will not remember a thing. In actual fact, most subjects recall the entire session. Ms. Cannon says her clients are often surprised that they remain so aware of what's going on. Even for those with low suggestibility - who don't actually achieve a hypnotic state - most would agree that it's a very pleasant experience. She likens it to a "massage for the mind."
So how does one know if he or she has been successfully hypnotized?
One telltale sign, says Ms. Cannon, is time distortion. Ms. Davis Perry's delivery was seven hours in total, yet as she recalls it, "I lost all perception of time. It was like I was in limbo. It just seemed to happen all at once."
The other sign is pain tolerance. When the subject is in deep trance, pinching or twisting of the skin on the back of the hand feels like touch, but is devoid of normal pain sensation.
And now, scientific studies are showing that hypnosis can influence our emotional response to pain, which in turn alters how we respond to it.
The evidence supporting this finding was discovered by Montreal researchers trying to understand how pain is perceived by the brain. Dr. Bushnell, along with colleagues at the University of Montreal, resorted to hypnosis with research subjects as a means of controlling the emotional response to pain so they could study how the brain processes pain signals from the body.
The researchers studied pain perception both by brain scan, and by measuring the brain's electrical activity with subjects in an alert state and in a hypnotic state, when the subjects' hands were immersed in painfully hot water. Their results, first published in the journal Science two years ago and subsequently published in the Journal of Clinical Neuroscience this year, came as a surprise to disbelievers, Dr. Bushnell among them.
"I went into this totally as a skeptic," she says. "Until I saw the brain scans." According to Dr. Bushnell, just being in a hypnotic state altered activity in the brain, while verbal suggestions of increased or decreased pain perception made more changes.
But considering that pain evokes all sorts of emotional responses -particularly pain that has a considerable emotional aspect to it, such as cancer - hypnosis may be a useful tool in helping some individuals cope with certain kinds of pain. This discovery of a mind-body connection won't come as any surprise to Ms. Cannon. "We all know the mind and body are one," she says. "It's one of the most underrated, powerful tools we have -- the mind."


---
Caesarean using hypnosis as the only anaesthetic
For the second time in the country, Iranian doctors have used hypnosis as the sole anesthetic to deliver a baby via cesarean section.
Dr. Roya Khodaei Ob/Gyn, performed the C-section at Paiambaran hospital in Tehran. Dr. Hossein Almasian was the clinical hypnotherapist who used hypnosis on the mother Sara Tavassoli.
A Cesarean section, also known as C-section, is a surgical procedure in which incisions are made through a mother's abdomen (laparotomy) and uterus (hysterotomy) to deliver one or more babies.
It is usually performed when a vaginal delivery would put the baby's or mother's life or health at risk, although in recent times it has been also performed upon request for childbirths that would otherwise have been natural.
Click the link below for photos and video...
Caution: explicit surgical images shown

Caesarean using Hypnoanaesthesia


---
Hypnosis for Hot Flashes
Baylor University professor brings hypnotic techniques into mainstream with Mind-Body research into hot flashes. An excerpt from the article:
Women participate in five weekly hypnosis sessions. Elkins has the women sit in a recliner and close their eyes. He then leads them through a series of suggestions and imagery designed to make them feel cool.
For example, participants might imagine they are walking in snow.
Between sessions, the women practice the method at home. The goal is for them to use the therapy whenever they feel a hot flash coming on, Elkins said.
Barbara Lee, a 66-year-old local apartment manager, said hypnosis has been effective for her.
Now, she's able to stop hot flashes almost instantly, Lee said. Overall, her condition is 85 percent to 90 percent better, she said.

Hypnosis to cool down hot flashes


---
Hypnosis relieves menstrual pain...
Hi Shawn,
I am very pleased to be able to tell you that what we did during those 2 sessions has made an enormous improvement for me.
My period started last Thursday and right away I noticed that I felt very little abdominal discomfort.
However, I realized I forgot to tell you that I get terrible back pain with my period as well, so on that first day of my period I was feeling the back pain. The next morning I had a little time to sit down and I disconnected the back pain circuits, and since then my back has been fine. I've only taken a couple of Advils (as opposed to 3 every 4-6 hours) and even the ones I took were largely because I didn't trust that the pain wasn't going to get worse. The last few days I haven't taken anything and I feel fine. It is still shocking to me that I can have my period and feel like this.
I feel totally normal.
So…thank you, thank you, thank you!!!
I started the pill on the first day of my period, and that seems to be going fine. I haven't really noticed any side effects. I was worried about it changing my milk supply/flow rate because I've heard that it can do that, and my son is still breastfeeding and I'd like him to continue if he still wants to. I haven't noticed any problems with breastfeeding due to the pill and he hasn't changed his nursing habits at all. So good news on that front too.
Thanks again,
P. B-C, Toronto
December 2008


---
Hypnosis with Dental Procedure
Hypnosis used in dental procedure
Mr Mason faced a £400 bill for the procedure to be performed privately
A dental patient underwent hypnosis to have two rotten teeth removed because he could not afford private treatment.
Leslie Mason was facing a £400 bill for the procedure to be performed privately as his local surgery in Colchester, Essex, had exhausted its NHS budget.
Mr Mason, 54, instead chose to play the role of guinea pig to a Hertfordshire dentist's unorthodox form of treatment, using hypnosis as the only painkiller.
The father-of-seven said: "It was incredible. I felt no pain at all."
Mr Mason was put in contact with dentist Dr Bhavin Bhatt, by mutual friend John Ridlington, a qualified hypnotist.
With the offer of free treatment he agreed to the procedure performed at the Smile and Wellbeing dental practice in Bishop's Stortford.
Mr Ridlington, 59, from Dunmow in Essex, said: "We all have the ability to control pain with our brains.
"Our brains control everything about our bodies and our subconscious is the most powerful part - it controls our breathing and the blood pumping through our veins.
"Hypnosis taps into the subconscious mind. It's all about mind over matter."
Mr Ridlington got Mr Mason into a relaxed state of mind and taught him to visualise his favourite pastime - historic battle re-enactments - to distract his mind from the pain.
Whilst wielding an imaginary medieval sword, Mr Mason visualised a dial numbered one to 10 - one for no pain and 10 for excruciating pain.
As soon as he felt a twinge he mentally turned the dial back to one.
He remained conscious throughout the two-hour procedure and felt nothing more than "a bit of a sting".
Mr Mason, a former farmhand, said: "It was incredible. There is no worse pain than that inflicted by dentists but I didn't feel any.
"The dentist had to dig away at the rotten roots that were right up into my jaw. There isn't anything I wouldn't have done under hypnosis now. It's incredible."
Dr Bhatt said: "The hypnosis was 100% effective.
"With Leslie we used hypnotherapy to remove a seriously infected tooth and some deeply embedded roots. Ordinarily this would involve surgery and such cases are usually referred to hospital.
"We're now exploring the possibility of offering tooth transplants under hypnosis."
Mr Mason has previously undergone hypnosis to quit his 40-a-day smoking habit.

BBC Dental Hypnosis


---
What a mom says...
Shawn -
I cannot thank you enough for the work you did with my teenaged daughter the other day.
Initially, she was quite nervous but you worked your charm and warm energy to totally relax her. She had nothing but positive things to say about her experience.
She's under a lot of stress right now with school, and she's only bitten her nails once, but for the first time, she didn't beat herself up about it.
Thanks again,
ED, Toronto
March 2009


---
---